Since 2004, the nonprofit Center for Financial Services Innovation (CFSI) has been on a mission to improve the financial health of all Americans. With funding provided by the Ford Foundation (a founding sponsor), Amex, BofA, Cap One, Charles Schwab, Citi, Visa, and a variety of other foundations and firms, CFSI conducts research, runs events, consults with financial services firms, and seeds innovation in myriad ways.
CFSI Vice President Sarah Gordon is at the forefront of CFSI's efforts to foster promising product, service, and strategy innovations to improve consumer financial health. Her latest endeavor? The new Financial Solutions Lab (FinLab), a five-year, $30 million initiative backed by JPMorgan Chase.
FinLab brings together social entrepreneurs around specific themes to identify, test, and bring to scale promising financial services innovations. CFSI's FinLab provides capital, national partnership opportunities, industry expertise, mentorship and consumer and design insights that they hope will help build the next general of leading financial products and services.
Nine winners of the first challenge were announced in June 2015 at CFSI's EMERGE conference. They were selected from nearly 300 applicants, all of which are tackling the cash flow management challenges of consumers.
Sarah was kind enough to sit down for an interview.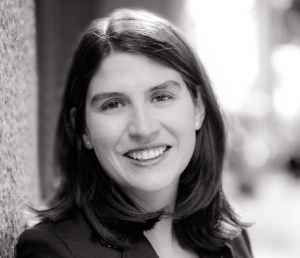 Q.   Sarah, I have a very good impression of CFSI from my experience at CircleLending, where CFSI was an early, supportive investor. That was several years ago. Tell me a bit about what CFSI is up to currently.
A.   Absolutely. We are now 11 years old and have been growing quickly recently. We are almost 60 people across four cities. Chicago is our headquarters but we are also in New York, Washington, and San Francisco.
Our mission is to improve the financial health of all Americans, but especially those who are underserved, by shaping a robust and innovative financial services marketplace. We are really trying to spur the creation of higher quality products and services that are going to help consumers better manage their finances day-to-day and build resiliency.
We coined the term "underbanked." We were calling attention to a need and to what we believe is a huge opportunity to serve these consumers responsibly and profitably long before the FDIC began their annual survey.
We continue to do robust consumer research so we can understand consumers' needs, preferences, and attitudes. We are also constantly scanning the marketplace for innovations we think can better meet the needs of consumers. We also have today advisory or consulting services where we provide one-on-one advice to firms of all shapes and sizes that are really trying to do better by underserved consumers.
We've always said, "Let's put money and resources where our mouth is." We should be supporting innovative new ideas and approaches and business models and understand what is working so we can hold our findings up to the industry and say, "Here's the proof. Here's how you can do it. Here's where you could be heading."
So we've used a whole variety of different mechanisms and tools to support the bleeding edge of innovation and to pull the industry in that direction.
A few years ago, we stepped back to reflect on all the things that we were doing. We did some future-mapping work and a bunch of interviews with external stakeholders, and the feedback that we were getting was that we are a connector. That we lead a network and we have the ability to bring all sorts of unusual bedfellows together to learn from each other and partner together with the objective of helping people achieve this goal of improved financial health.
"So why don't you think about formalizing that," they asked? The whole is greater than the sum of its parts. This is a network of committed providers, influencers, and enablers through which you can inform, advise, and innovate.
So now we really think of ourselves as leading this network. We have formalized the membership model. We believe that will help us drive impact and ultimately be a more sustainable organization.
Today we have over 80 diverse financial service providers that have joined. Those are the most committed, most engaged firms. Now we are about to open up the community to anyone and everyone who wants to plug in. We really do view ourselves as a hub for organizations that are committed to this mission.
Q.   What is your general approach to fostering innovation?
A.  We really do believe that innovation can come from anywhere. We are an organization that really puts the consumer need at the center. Everything we do is inspired by the consumer needs and insights that we glean from our research and the work of others. Then we look at the solutions available today and ask, "Are they high quality? Do they promote financial health? Are they sustainable?"
There's a lot of interesting work going on out there but it's highly subsidized, so we are asking ourselves what will work – and be profitable – over the long term. Then, depending on the answers to those questions, we ask ourselves, "What can we do about it?" "How can we support providers, and how can we improve upon what's out there?" Then we think about the right basket of resources and incentives to bring to bear.
When we started, that consisted largely of money – grants and equity investments. Over time we've gotten more disciplined and I would say more creative.
Q.   CFSI manages two Financial Capability Innovations Funds. Can you give us an update on their activities?
A.   We use them to support nonprofits, which are often the petri dishes in which ideas first reach the consumer segment we care most about. They have more flexibility, allowing us to study the impact they are having, and they have a lot of patience.
There are tons of nonprofits that are offering financial education. For a long time, financial education was not a priority for us; we were more interested in products and services and improving access to high quality products and services. But then the financial crisis hit.
And we realized that it's not just about access to products and services, but also about whether consumers can actually use them responsibly and manage them well. And that means they have to have access to relevant and timely and actionable and ongoing guidance. We looked at all of the evaluations that had been done on the financial education space, and the results were mixed at best.
This was an area that was ripe for innovation. So we gathered together a collaborative of funders, led by the Citi Foundation, who had been supporting financial education and who were starting to question the impact of those efforts. We suggested marshalling those resources behind a Financial Capability Innovation Fund managed by CFSI to see if we couldn't improve those results.
Between the two Funds, we re-granted approximately $5 million to nonprofits we thought were testing out some interesting strategies that had broad relevance to the industry's efforts to support their consumers in forming positive financial behaviors.
Today, we are reaping the rewards of those grants and have some really great results that we have been able to incorporate into the advice we are giving and the insights we are putting out to the industry, and we have some great examples of ways that providers can do things differently and achieve greater impacts.
Q.   Are these innovation funds only for nonprofits?
A.   Yes, simply because of the sources of funds we had access to, where we saw the most activity, and where we had the greatest opportunity to push things forward.
Q.   Given the objectives, it sounds like PFM (or personal financial management) tools could also have been a solution. They could certainly be used to help people manage their financial products and relationships more effectively and responsibly, but I'm not aware of any not-for-profit PFM providers.
A.   It's interesting that you should mention it, because that was exactly one of the innovations we identified when we were doing an early landscape assessment and preliminary whitepapers on this topic. This was in the early days of Mint and Thrive. But they still had a way to go if they were going to meet the needs of, say, a cash-based consumer. At the time, there were no tools for easily tracking your cash expenditures. They were leaving out a large swath of consumers.
We did support a nonprofit PFM of sorts. One-on-one financial coaching has been a trend in the nonprofit space but it is costly to deliver and the model doesn't scale. We invested in an online tool called My Budget Coach, which was trying to turn the "in-person" virtual by providing one-on-one budget coaching leveraging volunteers through an online platform, and they've done tremendously.
Another example of something we supported is SavingsQuest which was developed by D2D Fund and that was about driving small-dollar savings on a prepaid card. They've had some fantastic results, really showing that it works. It gets people saving. It's driving stickiness for the prepaid card, which we know has been a major challenge in that industry as people tend to purchase the cards and then dump them. Providers are seeing many more months added to the lifetime of a customer, and these customers are loading more funds onto these cards to spend down. So – ding! ding! ding! – it's a win all around.
These are the kinds of things we were supporting from nonprofits.
Q.   Will there be a third innovation fund?
A.   Not using the current form.
Q.   How was the Financial Solutions Lab conceived? Did you perceive a need that wasn't being filled by other challenges and accelerator programs?
A.   JPMorgan Chase came to us almost two years ago. They said that they'd been impressed by what CFSI had done with the Financial Capability Innovation Funds and suggested partnering but on something many times bigger. We had in mind something different than the innovation funds, something that allowed us to work with a much broader cast of characters. We also knew there were other consumer challenges that we wanted to work on. And that we needed to think broadly about marshalling the right financial and non-financial resources we need to make that go.
After a series of conversations, the Financial Solutions Lab was born. We are now running a series of competitions seeking tech-enabled solutions for very specific consumer challenges.
We are thrilled to have JPMorgan Chase as a partner. It's a huge opportunity for us to scale up our innovation work, build a robust innovation platform, and truly be that hub. When we think about the network we are building at CFSI, we needed a better offering for financial technology entrepreneurs to bring them in and to inspire them, as well as the larger financial services firms already sitting at our table.
Q.   How does the Financial Solutions Lab compare to other FinTech Accelerators? You must have perceived a gap in the market, a need that wasn't being met.
A.   There were several angles to it. First, we are really the only ones who are focusing on financial health. The end goal is not just the profitability of the venture but a significant social impact, and we are holding firms accountable for that. We have pretty robust impact measurement plans in place with each participant so we can actually answer the question, "Does this Matter?"
Second, we are open source. We want to say not only that these innovations work, but also, "here is how they work." We intend to be transparent on revenue drivers and impact drivers so the industry can benefit, either by investing in or partnering with these startups.
Also, our involvement doesn't end after demo day. These startups will be fully integrated into the CFSI network, and we intend to have an ongoing relationship with them for as long as they desire it and to continue to help them in any way we can. I do think that access to our network is a real differentiator.
Finally, we've brought a whole bunch of things together in one place that startups need in terms of thinking about the designs of their products, making sure that they have the right support when it comes to legal and regulatory challenges unique to this industry, and also the broader partnership opportunities we can introduce them to. We can show them the doors they should be knocking on.
Q.   Trying to figure out whom to talk to and get the right introduction takes up a tremendous amount of time for FinTech startups that are looking to partner. If you can do that for Lab participants, it's a huge leg up for these firms.
A.   We're trying to make it as easy as possible for these firms so they can concentrate on building their products and building their businesses and not spend too much time on trial and error trying to figure out how this complicated industry works.
Q.   For the first FinLab challenge, how did you settle on cash flow as a topic?
A.   It was where the research pointed us, frankly. We are one of the principal investigators in the U.S. Financial Diaries project, a joint initiative of NYU Wagner's Financial Access Initiative (FAI) and CFSI. Through that work we are following 200 households to figure out how their financial lives work. We observed how their cash flow was spiking and dipping, and it was something we could not ignore.
We know that 43% of U.S. household struggle to keep up with payments and over 1/3 live hand-to-mouth. It's not necessarily because they are poor but because they don't always have cash available when they need it.
When you think about families with these liquidity challenges and you look around the marketplace at the options available to them, they are not good. So we decided to use the first Financial Solutions Lab challenge as an opportunity to shine a spotlight on this issue.
Q.   What were the eligibility requirements for startups?
A.   In addition to sharing our interest and passion for this issue, they had to have a product in market and some customers. We wanted companies to apply that weren't so far along that we couldn't help shape their product, but we didn't want them to be six months or a year from launch. They also had to be able to articulate their reasons for wanting to participate in the Lab.
Q.   What were the selection criteria?
A.   We were looking for the potential to make a consumer impact, and we had to believe they were offering a high-quality product. We looked at the track record and the strength of the management team. We also evaluated their business plan, their go-to-market strategy, and the economics of their offering. We also had to deem what they were doing to be highly innovative. The newer, the more interesting, the more unique, the better.
We also had to be comfortable that they were ready and willing to engage with the Lab, which is virtual. This is a community and an ecosystem we are trying to build.
Q.   You say the nine FinLab participants receive "up to $250,000 in capital, structured to advance the goals of your organization." What does that mean, exactly?
A.   Not all Lab participants received a check for $250,000 on day one. In some cases, for super early stage ventures, we've given less initially but they can receive the rest after hitting specific goals.
Q.   Does the FinLab take any equity?
A.   We took a very flexible approach. Most participants gave us back a convertible note, but some received a grant. It varied based on what they were working on, the stage they were at, and where they were with other fundraising, in each case it was the result of an individual negotiation.
Q.   So you will end up with some equity in most of these companies. What else are they required to give, other than their full participation?
A.   Really, it's that. It's their full participation. Over the nine months each Lab challenge lasts, that means attending events and taking advantage of what our resource partners are providing. We're not asking participants to pick up and move for the duration of the challenge, but we are asking them to attend particular parts of the program in person.
Q.   What's next for the nine firms selected?
A.   Like all startups, these nine firms each face challenges unique to their business models. FinLab is helping them to address those by connecting them with valuable resource partners and assisting them in navigating regulatory issues that can derail companies in this space. Our goal is to help each of them scale responsibly so they can have a long-term impact on the financial health of American consumers.
Q.   Access to data is often problematic for FinTech startups. It's expensive to obtain and sometimes just plain inaccessible. At FinLab, are you able to help your startups overcome this challenge?
A.   We are still assembling some of those resources, but to start, we have partnered with FinTech Sandbox, so their data is immediately available. It's also a discussion we are having with Chase and with members of our advisory council.
Q.   What is the probable timing of the second challenge?
A.   Be on the lookout for an announcement early next year about the 2016 Challenge.
Q.   Tell me about the EMERGE Forum. I've never attended.
A.   You really need to come! The EMERGE Forum is our large annual conference drawing upwards of 700 senior executives from a diverse groups of companies running the gamut from startups to large financial services firms to technology companies. It is mainly geared toward financial services providers, but you also see regulators and representatives of the advocacy community. So it's a beautiful cross section of people who share an interest in advancing financial health in America. They come looking for actionable insights as well as big ideas. We hold it annually in June, and next year we'll be back in New Orleans.
Q.   What is CFSI's relationship with Core Innovation Capital?
A.   Core is a strategic partner of CFSI. Core invests in seed through growth-stage for-profit financial technology companies with strong management teams, disruptive business models, the ability to achieve significant scale, and a commitment to serving low- and moderate-income consumers. Initial investments from Core range from $1 to $4 million. Core is on the Advisory Council for FinLab, as are several other investors.
Q.   Will Core consider investing in FinLab finalists?
A.   Funding isn't our primary objective, but it would be a really nice outcome if it happened. We do want to create as many of those serendipitous opportunities as possible. Certainly the interests of Core and CFSI overlap, in that we're both interested in growing awareness of and investment in FinTech for good.
Q.   What's next?
A.   We are always looking for new ways of spurring innovation in the marketplace. There's nothing we want to announce today, but expect some exciting new initiatives from CFSI in the next one to two years.
# # #