Headquartered in Paris, BNP Paribas Group is one of the world's leading banks, operating in 74 countries and employing more than 189,000 people. BNP Paribas has stated plans to double its investment in technology to €3 billion over the next three years as part of a digital transformation designed to adapt to changing consumer behavior, cut costs, and accelerate a shift away from traditional banking. Part of this investment will go into tech labs, company incubators, and new, internally developed apps and platforms. The bank is also expected to close hundreds of branches.
With offices in Paris, San Francisco, and Shanghai, L'Atelier BNP Paribas is a subsidiary designed to help BNP Paribas Group and its clients track innovation in the uses of information and technology. Operating for more than 35 years, it is quite possibly the longest-lived innovation effort in financial services.
A few years ago, L'Atelier gave birth to L'Atelier Acceleration Team, which brings together disruptive innovators, corporates, other resources, and a support network to accelerate the speed of innovation. In 2016, the Acceleration Team launched L'Accelerateur by L'Atelier BNP Paribas, a four-month program designed to get FinTech and InsurTech start-ups to the next level by allowing startups to collaborate closely with BNP Paribas' banking and insurance business units. The program is free, no equity taken, and the staff is 100% committed.
Participants in the program are paired up with a BNP Paribas business line, and supported by top management sponsors. The business lines contribute budget to L'Accelerateur, so they have skin in the game, and each line is involved in selecting just one startup to work with closely.
Startups receive advice on business, marketing, fund raising, technology, finance, insurance, banking, security, compliance, legal, and other relevant topics. Mentorship is mostly done by BNP Paribas employees. BNP Paribas may invest up to €100,000 in each startup via convertible note. In addition, the business units may themselves decide to invest. The program takes place in the heart of Paris, in very attractive, appropriately funky office space.
Eight firms completed the inaugural program in 2016. The program was considered a success, and two BNP Paribas Group business units made strategic investments in participating startups:
PayCar, offering a payment solution for the purchase and sale of used vehicles raised €1.3 million from three BNP Paribas Group business units including BNP Paribas Cardif, the Group's insurance arm, and
RegTech startup Fortia raised an undisclosed amount of capital from BNP Paribas Securities Services.
198 start-ups applied for the 2017 season – 25% from outside of France – and eleven were recently selected. Batch #2 consists of the following companies. All are based in Paris unless otherwise noted.
Emmanuel Touboul heads Startup Acceleration and is in charge of startup-related activities within L'Atelier. Marylene Groult is Program & Content Manager at L'Atelier and is leading L'Accelerateur Fintech this year.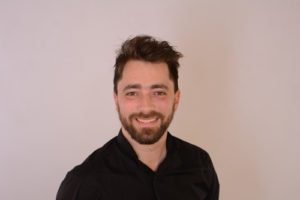 Q.   You had nearly 200 application for this year's batch. What themes did you see among the applicants that distinguish them from 2016 applicants?
A.   We saw quite a few AI startups. RegTech also seems to be a source of inspiration for this year's entrepreneurs. At the end of the year we will see two major regulations introduced. One is MiFID II, which will increase transparency of markets (among other things), and the other is PSD2, which is a European directive allowing bank account aggregators to initiate production. In addition, blockchain is still a popular subject.
Q.   What else is new for the accelerator this year?
A.   Topics were more diversified as we decided to open L'Accelerateur to BNP Paribas Group's functional areas as well as to the business lines. Last year we had six business lines working on eight projects (BNP Paribas Cardif and BNP Paribas Wealth Management took two projects each). This year, we have eight business lines and two functional areas (Group Communications and BNP Paribas Corporate Real Estate, which we use to manage our own real estate activities) participating.
Out of these 10 sponsors, two were part of the first season. This is a resource intensive program for the business lines and it is too much to expect that they will all participate in every season. The other business lines that participated in the first batch are still engaged with their projects, and will be back for the third season.
We also empowered the team with new advisors (former entrepreneurs) joining. They are still 100% committed. They are on the payroll of L'Accelerateur by L'Atelier BNP Paribas and their only job is to be advisors to the program. This is one of our strengths.
Q.   What were your application requirements? Did startups need to have a product they could demonstrate? Where on the maturity scale did they need to be?
A.   They need to be to be an established start-up (statutes registered) and they need to have an MVP.
We were initially focused on early stage start-ups. Regarding the FinTech Accelerateur program we are now open to more developed start-ups. Start-ups need to be solid enough to overcome our compliance and regulatory constraints.
Q.   What do applicants tell you they want to get out of the program?
A.   During the application process, we ask them why they are applying, what their main focus for the accelerator is. This is for Batch #2:
32% say to boost their commercial development
26% say to develop their product
13% say to scale and structure their teams
Q.   How were the final 11 participants selected? Were the Group business units actively involved to vetting and selecting?
A.   Yes, of course. The final decision is in the hands of the business lines. We, at L'Atelier BNP Paribas, are helping them in this choice with a specific analysis on the team, project, market, and financials. Naturally, the business lines are most focused on the matching of the startup's offer to their business needs.
Q.   Do the participating business units have particular business challenges in mind before the application process begins?
A.   We are focused on creating value for both the startups and the business lines. That's why the first step of our process is to work with the business lines on the expression of their innovation needs. This starts with a discussion of their strategic plan for the next year.
This step is really important because often business lines have in mind their roadmap but they don't really know the kind of topics that could be addressed by start-ups in an open innovation process. Once the topics that particularly interest our business line sponsors are identified, they are posted to our website for all the interested startups to see.
Q.   Please tell me more about the program itself. The second batch of startups have just arrived. What can they expect?
A.   We are definitely a business centered program. When they join, start-ups can expect concrete collaboration with the business units and tailor-made support from our tech and business advisors.
What differentiates us from our competitors is that we have a team of entrepreneurs dedicated to following through on the collaboration process. One of our goals is to remove any cultural barriers to successful collaboration. We are now working with startups to define their particular issues, from which each will have actions to take to develop their businesses. We will help them at each stage with an individualized approach.
Q.   Is it fair to say that one of the biggest achievement for participants should be understanding product market fit?
A.   Yes, since they will confront their banking market from the beginning of the process by working with business lines. Sometimes, we have to help them go back a little bit to work on the proper fit.
Q.   How involved are the business unit mentors with your startups during the program?
A.   It depends on their collaboration project, it might range from one person one day a week to 10 people fully dedicated. This latter was BNP Paribas Securities Services working with Fortia on regulatory issues.
Q.   Beyond mentorship, what other support will participating startups receive from the business units they are paired with? Will they be introduced to business unit clients? Will they have access to business unit data?
A.   Yes, depending on the project/clients and the business lines. Accessing the data by an external entity is always an issue, but business lines will work on it if necessary for the POC.
Access to data is regulated on both by the EU and by France. We have the CNIL (the French Data Protection Authority) and it regulates the way we share data, unless the client has expressly given us permission to share data. Some of the business lines do have sandboxes, though.
Q.   Do you bring in outside mentors, as well?
A.   Yes, if we can't find the right expertise in the team or in the Group.
Q.   And what does BNP Paribas hope to get from the program? How does L'Accelerateur by L'Atelier BNP Paribas fit among the firms many other innovation initiatives?
A.   For BNP Paribas, it is part of their digital transformation. Definitely, we are expecting real value and new business!
In France, at least, we are well identified by the business lines and functions.
Q.   How does your program compare to Innov&Connect, which is another Paribas accelerator program?
A.   Exactly the same methodology. The slight difference is that for Innov&Connect business mentors are corporate clients of BNP Paribas. If it works for us, it works for them!
We have posted a video that explains the similarities of the two programs in English.
Q.   Plug and play recently announced a Paris-based FinTech/InsurTech accelerator in partnership with BNP Paribas. Are you going to be involved? Will there be any relationship between what you are doing and what they are doing? How can startups know which to apply to?
A.  Since L'Accelerateur by L'Atelier was very successful, BNP Paribas Group decided to amplify its investments within the startups ecosystem, and the P&P deal is one of our initiatives. We are focused on business lines stakes and can't accelerate a startup without a strong commitment of our business lines, where Plug and Play can select promising startups even without an identified business case.
We are now working together to be able to bring the best value possible to startups.
Q.   Two of last year's participants raised additional capital from BNP Paribas business units they worked with and others had success raising capital from outside the BNP Paribas Group, which I think is another measure of your success with the initial batch. Can you share any of the details?
A.   Just that 60% of the startups in Batch #1 have raised outside capital so far.
Q.   I think your KPIs are very interesting.
A.   Yes, thanks. Our only objectives are that our corporate partners are satisfied with the work that we do and that the startups value what we are doing for them. Each time we have contact with a startup we send them a survey. They just have to say, "Was this useful or was this not useful?" In the end, we are just monitoring our net promoter score, if you want, from the startups.  Between one and 10, the average mark that we have is nine. For the corporates, it is more qualitative, because we ask if they were satisfied and how we can improve it. Everyone was very comfortable with the way we were working with them.
What we are monitoring is the success rate of the collaboration.
Q.   Who will be in the audience during demo day?
A.   VCs, the business lines, and sometimes other corporate targets of our startups.
Q.   What sort of relationships should participants expect with their business unit mentors after the four-month program ends?
A.   A commercial or strategic partnership, and why not an investment?
Q.   Paris is gaining recognition as a FinTech hub and promoting itself as an alternative to London. What can tell me about the Paris FinTech/InsurTech ecosystem?
A.   You are right that the Paris FinTech scene is growing. We now have two major events, the Paris Fintech Forum and Fintech R:Evolution, sponsored by France FinTech, which is the biggest association of FinTech in France.
The French FinTech/InsurTech ecosystem is now more mature and structured which is important, mainly with regards to the regulatory constraints.
What you are seeing in the ecosystem is that two years ago we saw more FinTech with B2C positioning, and this year we see more FinTechs pivoting to B2B because they need to work with banks in order to have access to the market. There's more collaboration, less direct competition. This was very obvious in the applications we had this year.
Q.   Is there anything else you would like people to know about your program?
A.   This program is built by entrepreneurs for entrepreneurs, and we are very focused on providing value to both our startups and our business lines. We are very business oriented.
Q.   Do you have any thoughts, yet, as to what you might want to do with Batch #3 next year?
A.   Next step will be to embark on the compliance and risk functions!
# # #